Profile: Anna Bryson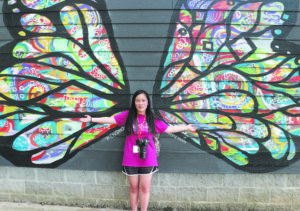 By Camiryn Stepteau
Presentation Academy
Anna Bryson wants to make a big impact on the world starting with her passion for Christianity and love for her Chinese background.
At the age of 7½ months, Bryson was adopted in Hunan, China. Bryson's parents took 12 months, while working through Children's Hope International adoption agency, to get a referral full of pictures and information from the Chinese government.
They traveled to California from Bowling Green, Kentucky, to meet with other adopting families. They flew 32 hours to Changsha, China. All the hours were worth it when they finally had Bryson in their arms.
"Her dad and I couldn't be happier," Anna's mother Rachel Bryson wrote in a text message.
She is using her experience as a platform to raise awareness about adoption. She plans to start a campaign called Adoption is an Option, which will financially aid families going through international and domestic adoption.
Bryson didn't think much as she grew up about being adopted and even found herself forgetting that she is adopted at times.
"For a while, I just went on with my life. I didn't want adoption to define my life because I didn't want it to define me negatively," she said
Bryson's friends and family make it easy for her to forget that she doesn't come from the same background or look the same.
Still, it's sometimes hard for her to look into her background.
"I haven't done the best with connecting back to my Chinese roots," Bryson said. "I feel like sometimes if we try to pull too much it becomes a racial thing. I don't think that's what defines me. It's God that defines me, not race."
She tries to connect with her Chinese heritage by celebrating Chinese holidays with her friends and family. She celebrated Chinese New Year every year when she was in elementary school. Bryson and her family threw parties in honor of the holiday. Her friends loved celebrating different cultures and learning new things.
"I think the most interesting part is about bringing my heritage back is, I'm learning with my friends; it's not me teaching them," Bryson said.
Not knowing much about her background has been frustrating for Bryson, a 15-year-old rising sophomore at Bowling Green High School. Things can get weird when topics like family trees and genetics come up in class, she said, considering she doesn't know much about her biological parents. Getting in touch with them would be difficult.
"It's from my understanding that the orphanage never came in contact with my birth parents," Bryson said.
And she doesn't have much of a desire to meet her biological parents.
She does want to meet her siblings, though, since she has grown up being an only child. She would like to go back to China as a missionary and visit underground churches in China.
Many religious facilities are hidden to avoid execution, persecution, or harassment.
"I think we don't know how free we are until we get our freedom taken away," Bryson said.
The most important thing to happen her, though, was becoming a Christian, Bryson said, and God is a big reason she is involved in reporting.
"I feel called by God to do journalism," Bryson said.
She grew up in a Christian household and went to a Christian school for two years, but wants people to know that she chose Christianity because she believes in it.