Profile: Brennan Crain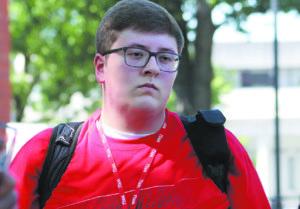 By John Hundley
Kirkwood High School
Barren County High School student publications were on the downfall and eventually faded away in 2005. For over a decade, there was not a publication at the school before Brennan Crain and a few classmates got started.
Together, they helped start The Burgundy Media Network in 2017. They produce BCHS Live!, which is a live video production, the Trojan Times, and 88.7 FM Trojan Radio.
"I feel like whether there is an opportunity available or whether the opportunity is not, there are people willing to give you the time to create that opportunity," Crain said.
Crain said it was not much of a process until the summer when they began to work on logos and what they were going to do for newscasts.
"It was a little complicated," Crain said. "You have to approach administration but luckily administration was pretty open about the situation."
Kelly Ross, an English teacher at Barren County, has been a big motivator along the way. She has been around to be a support for Crain and his classmates trying to revive the publications.
"She allowed us to come together as students and voice what we want to do or wanted to see in school," Crain said.
Before that, medicine was Crain's main interest since his stepmother is a nurse.
Crain has been curious since he was young after hearing stories at home.
"I have been to her workplace before, shadowing," Crain said. But his interest was really peaked hearing stories at home about her career in medicine.
Crain, 16, loves to connect with people, and he thought medicine would give him the ability to do that by treating patients and creating bonds with them.
With Crain finding other interests, it showed him that he could be doing what he likes to do, which is to connect and learn, but that he could do it on a greater scale with journalism.
"I like learning about people, I like learning in general," Crain said. "I like exploring things whether its diving into a good book or having a conversation with someone I don't know."
Crain said besides learning he likes to cook and expirement with his father in the kitchen and when the two cook together he enjoys it.
With medicine still an interest but on the back burner, Crain thought about specific things he wants to do in journalism. It's become a passion.
"Lately, journalism – and specifically broadcast journalism," Crain said. "You can reach people through print… but the average person is going to flick on their TV at night and catch the headlines on the news versus taking the time to sit down and read a story".
Growing up medicine was one of the things Crain saw as a very interesting topic but since then journalism has taken over and is now seen as a passion through his eyes.