Profile: Camiryn Stepteau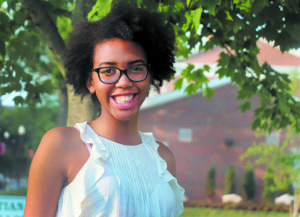 By Anna Bryson
Bowling Green High School
Camiryn Stepteau stood in front of her mirror, straightening her posture to flatter her 6-foot stature. Her dark brown eyes gravitated toward the girl in front of her. Stepteau's eyes proceeded to scan over herself. She saw a future woman of fashion in that moment.
Stepteau recalled how the idea of fashion came about in her life.
"Multiple people ask me, because of my height, should I model but I've never tried it – except for maybe a few photos on Instagram maybe, but nothing more," Stepteau said.
She described how she plans to pursue fashion as a lifestyle.
"I've loved journalism ever since I could think about it," she said. "I am very interested in fashion journalism, specifically."
However, fashion is her second passion. Stepteau is a Christian, baptized when she was 2 years old in the church she currently attends. She is a member of Christ the King Catholic parish in her hometown of Louisville, and she was recently confirmed, a sacrament in the religion.
"I do consider myself a religious person because I have a great relationship with God," said Stepteau, 14, a rising 10th grader at Louisville's Presentation Academy. "I love to talk about faith. I go to a Catholic school, so I am always learning about faith and my religion.
"I feel like God has called me to do fashion or else I wouldn't be going with the idea of it."
Stepteau's religious beliefs influence how she treats people.
"I think just to be myself and to be positive and to help others," she said.
Her faith directs her opinions about different aspects and issues of fashion and how she responds to different controversies, she said.
One controversy of fashion Stepteau is aware of is the prevalence of eating disorders  developing among models.
"I think it's so unfortunate how they feel pressure to be a certain weight and size that they have to go to extreme measures, and I don't agree with it." Stepteau said.
She also acknowledges different fashion controversies on a personal level.
"I've looked into it personally with me being my height," she said. "A lot of people tend to comment on my weight as being one of the attributes to why I should model."
Despite those concerns, Stepteau said she feels that the fashion industry is progressing toward a future where health and safety are the primary concerns over than setting a social standard.
"The media and the people have made fashion companies aware that it's not OK to be so exclusive," she said. "I see stores in the mall and advertisements with more diversity of body types in models"
She concedes to the fact that the fashion industry is making some modification to regulations regarding the health of their models. But she feels that there is still much work that needs to be done. Stepteau would like to start facilitating change by starting small at Teen Vogue.
"I admire it and I feel like I can improve the level of diversity and representation of different traits," Stepteau said.
Stepteau hopes to continue to evolve the fashion industry based upon how she believes God sees her.
"I know that if I was ever become a model, I'd tried to make sure that everybody gets represented equally," she said. "I believe that God truly wants me to accept people for who they are and to not judge."