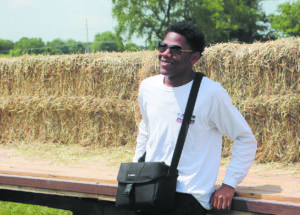 By Brennan Crain
Barren County High School
Perspiring. Clammy. Nervous.
John Hundley felt the pressure of trying out for the Kirkwood High School freshman basketball team.
Hundley, a Kirkwood, Missouri native, grew up playing basketball with friends but had never played in a large scale or competitive setting.
But that didn't stop him from trying out for his freshmen high school basketball team. It was the first step in the process to finding his true passion away from the court.
Something, however, wasn't right during the try out. Hundley was not himself.
"I was really nervous," Hundley said, "and was not my normal self, for sure."
Hundley's nerves caught him off guard since he felt prepared.
"I went to school work outs and worked out at the YMCA," said Hundley who wanted to play since sixth grade.
It just didn't work out. Hundley was rejected and he soon realized that basketball was not right for him. But this defeat did not lead Hundley to diminish his aspiration in life: pursuing something new that he loves.
"I think that [being cut from the team] opened my eyes because after that, that's when I really went into other things and looking into doing other things," Hundley said. "That's what opened me up to journalism."
Hundley, now 17, began his pursuit of journalism by taking a class at his school the next year. He later found photography.
"I took the class and it just kind of clicked with me," Hundley said.
When basketball aspirations were on his mind, journalism was the last thing Hundley thought of pursuing. Ultimately, it was best for Hundley who is now a two-year veteran behind the camera.
Hundley has attended multiple workshops since finding photography where he says he has learned a lot regarding the field. Being attentive is an important skill he has learned.
"I feel like if you're a photographer, you have to be attentive at all times," Hundley said. "And, I feel like that's a key thing. And, if you're looking at your photo stream, you could miss something."
From trying out for the team and failing, to picking up a camera, Hundley found that his purpose is much more than on the court.
"At that moment," Hundley said, "I noticed that I was not the worst at what I was doing."
Since then, Hundley said he has grown as a photographer and developed his persona along the way.
"I just feel like that if there is a story to be told, it should be visualized," Hundley said. "For those that may not be able to read, I feel like taking photos is one of the ways for people to see things and to see stories."