Profile: Sierra Earnhart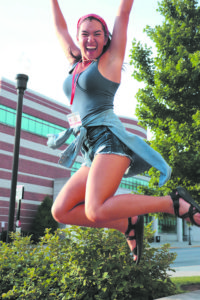 By India Rice
Westlake High School
Life hasn't always been a smooth ride for 17-year-old Sierra Earnhart.
The senior from Bowling Green admitted there have been some financial struggles along the way.
Yet it's helped shape the teen into the independent free-spirit she said she is today.
Earnhart's parents divorced when she was 5 years old and it made life difficult financially. "In 2008 the housing market crashed," Earnhart said. "My mom, a real estate agent, was not making money. She couldn't find a job."
Earnhart quickly learned how to entertain herself and didn't rely on her parents to buy her things.
"I had to make and save my own money," she said.
"I'd sell friendship bracelets, do lemonade stands and sell my stuff at garage sales so I (could) buy my own toys and pay for a field trip at school," she said.
During those early years, Earnhart said her mother made a difference in how she perceived herself.
"Looking back, I wasn't the most attractive. I was a chubby kid. My clothes didn't fit right… my glasses didn't fit my face."
Her mother always told her, though, that she and her sister would be Miss America one day. It changed the teen's perspective.
"I wasn't ashamed of myself because of what she told me," said Earnhart, who is part white and part Korean and has learned to be comfortable in her own skin.
"It's a lot to do with accepting who I am. You can let it define you or you can grow from it or accept it," Earnheart said. "Knowing who I am and being comfortable with who I am sets me free… it's liberating."
Earnhart attends Greenwood High School and is making her mark. She serves as vice-president of the international club and is co-editor of the school yearbook. She also is the head producer of a TV show called Gator News at her school and is a member of the Student Council. She is a Gold Key Scholastic Art and Writing recipient and attended the Kentucky Governor's School for entrepreneurs.
If all her academic responsibilities aren't enough, she also plays varsity tennis, where she's been a member since her freshman year.
"Not fitting the profile of a privileged kid fitting into the right family, I had to work for it," Earnhart said. It meant working "twice as hard as other students."
As for her future, it doesn't include staying in her hometown forever: "There's more to see than Bowling Green."
She has her eyes set on Florida, recalling her father's property in New Port Richey.
"It's far away from here," she said. "I'm really familiar with it because I've been there a lot of times. That salty smell – although terrible – reminds me of Florida. It makes me happy."
Earnhart said the thought of making her own decisions would be "really cool… not having to follow anybody's rules."
But for now, the teen has her future to think about and career choices to decide.  Earnhart once considered a career as a computer engineer; recently, she has found  a passion in writing.
"For the longest time I said I wanted to be a computer engineer, but after winning a Scholastic Gold Key, I feel compelled to write," Earnhart said. It sparked a fire inside the teen.
"Journalism feels like the one outlet that when I can be truly creative, and potentially change other people's lives."