Profile: Tiana Wilson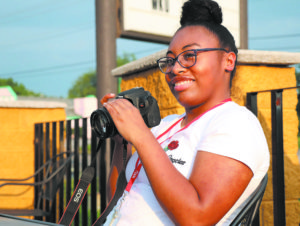 By Jaley Adkins
Belfry High School
In a hectic world, it is important to have a voice that can be heard and held onto through the chaos. Tiana Wilson has found her voice and she makes sure it is heard now through her singing and plans on using it in her future.
Wilson and a friend, Yazmine Venagise, both agree that she is loud and uses this voice to bring people joy.
Wilson has been a member of Gallatin High School's chorus since she was in the sixth grade and the 2017 Christmas performance was her favorite. That performance was an emotional moment for her because she is leaving the chorus to focus on her drawing and painting.
"Everyone was very tearful and sad but also very happy," Wilson said. "There were seniors leaving, too, so everyone was emotional about that. We gave flowers to my teacher. We're all just one big happy family."
Wilson was also a member of the Ladies' Ensemble ­— a girls' choir for sophomores through seniors.
"That specific group was closest to my heart because we were all so close and that has left the biggest impact on me," she said. "Times like our Christmas party, when we were all together having a good time, is something  that I'll always remember."
Wilson tries to inspire people with her voice, but she finds inspiration in other singers, including Ariana Grande.
"She is fearless and makes me want to be fearless too," Wilson said.
Her biggest inspiration comes from her religion, though.
"Finding out Jesus is my anchor" was a life-changing moment for Wilson.
Singer Tori Kelly's song, "Help Us to Love," matches with Wilson's feelings.
"This world is weeping, hurting, broken and begging for change," Kelly sings. "But still we marching, praying, dying, and things stay the same / When will we see? / Till everyone's free / There'll never be peace between you and me God, your love is the cure / For the rich and the poor / God, please will you open our eyes?"
"She's speaking facts and this part can't go unnoticed," Wilson said. "In this song, she talks about how we need to change the world –love instead of hate, and make people happy instead of bringing them down."
She names loving and making people smile as priorities.
Her family has also been an influence. Wilson has two brothers Ananiyas, 10, and Malaki, 6.  She also has a sister, Alayzia who is 14.
Wilson recalled one of her favorite memories with her family. "We were all at my Nana's, sitting on the porch, talking and laughing. I think that would be my ultimate, favorite memory because we were all just having fun."
Wilson, a rising junior, knows that times like that with her family may become limited, since she plans on attending college at Western Kentucky University.  She will continue to use her voice to become a Spanish translator and artistic voice as an artist.
"Ever since I was little and watched "Bring It On: Fight to the Finish" and saw the main character speaking Spanish, I wanted to start taking Spanish classes," Wilson said. "Then I met Yazmine and her family which made me want to start speaking Spanish even more.
"I'm really passionate about it because I have always loved the Spanish culture and language and want to learn more about it."
She also loves drawing and painting but knows it is hard to make that a career. Wilson plans to pursue her art in her spare time.
Wilson said she hopes to live "somewhere shiny," near a beach, very different from where she has grown up in Tennessee.
"It is a very small town," she said. "You cannot meet a new person. Everybody knows everybody."
Wilson said she intends to use her voice to make a difference in her community and the world and to accomplish all of her goals.
"I'll never stop what I'm doing, I'll just keep going and going until I get there."