Natural disasters cause trauma among teens
Jamie Reece, 18, bolted out of bed and headed for his mom's room. A tornado was coming, and although they didn't know it yet, it was headed directly for their neighborhood in Bowling Green.
While the family and their home survived, the damage was extensive. Trees came down, and sheds buckled under the storm. Much of their neighborhood was destroyed during Kentucky's worst night of tornadoes, which killed 80 people, including 17 in Bowling Green, and damaged hundreds of businesses and homes.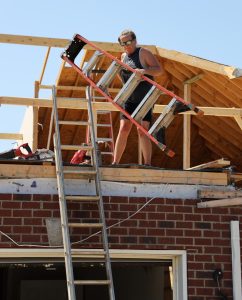 For Reece and other teens, the terrible night left a lasting impression – stress, anxiety and post-traumatic stress disorder (PTSD). Reece remembers the night vividly.
At the time, he lived with his mom and brother. Their home was in the direct path of the storm.  While the night of the first tornado still lives with him, it wasn't the worst part.
"When the second tornado came through, on New Year's Day, I was absolutely petrified. I had a full on mental breakdown," Reece said. "I started running around the house panicking, making sure everyone had a place to go to be safe.
"I took my brother and got in the closet with him. I grabbed a bunch of pillows and just hid under them. I was terrified. I didn't want to lose him or anyone close to me."
It had been just three weeks earlier that the deadly tornadoes pummeled Bowling Green. But while the New Year's Day storm was lesser in size, some locals said this was more impactful, due to it stirring up feelings of anxiety.
Warren County Public Schools conducted surveys for the students about the impact of the tornadoes. From these surveys nearly 13% of participants showed evidence of likely PTSD. That figure has more than doubled to 27% since then, said Lindsey Young, a childhood counselor for the county school system.
Public mental health resources were available but limited due to the overwhelming demand for treatment. Schools specifically struggled with providing these resources.
"In particular, schools in Warren County aren't equipped to handle this many cases at once, it's honestly been quite overwhelming," Young said. "I've heard from students who were not near the tornado at all and ones that were directly in the path and I still see the same things between them."
While natural disasters can cause lasting trauma throughout a community, teens can be particularly affected. According to the National Library of Medicine, part of the National Institutes of Health, around 25% of young people experience a natural disaster and related mental health issues such as symptoms of PTSD and depression.
"Schools were probably the hardest hit environment; there were students that sat next to empty chairs that were never filled," Young said. "Some students didn't express signs of emotional distress at all in the beginning. It took time for these feelings to process and it takes a minute for these students to come forward."
Among the difficulties that Young has seen in students are decreased appetite, difficulties sleeping, increased worry, increased emotions and stomach problems that could stem from anxiety.
"It didn't help that these students had to walk outside their homes and be constantly reminded of the damage done, some of these students weren't able to spend Christmas in their homes," Young said, adding it's not something they can just move on from.
Drake Walden, 18,  suffers from PTSD and anxiety induced by the tornadoes. He lives in one of the most heavily hit neighborhoods, Whispering Hills.
For Walden, the storms still rage.
"Sometimes when there is a really bad storm, I have a feeling. I get kind of nervous," Walden said. "I worry that if it happens again, it could be me who doesn't make it out alive."