Collins leads Lady Tops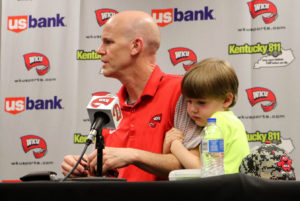 BY JOHN HUNDLEY
Kirkwood High School
New Lady Topper head coach Greg Collins has been around basketball for years, but this year is his first head coaching job beyond high school.
Now is his time to show he can be a successful head coach at the collegiate level and he's looking forward to the season opener against the University of Louisville.
Collins' father was the one who introduced him to basketball and eventually coaching, but he wasn't alone.
"He inspired me to really work with kids, to work with young people, and the coach that I have learned the most basketball from wasn't even a coach that I worked for…but when I coached at the University of Louisville, Coach Rick Pitino allowed me to come to his practice every day," Collins said.
Collins said Pitino allowed him to go to his practices for two years and there he learned a lot about basketball and coaching.
Collins, who was previously the Lady Toppers' assistant and associate coach the past six years, inherited a challenging situation in his first season with the graduation of two star players. Tashia Brown and Ivy Brown combined to score 39.4 points per game which was more than half of the team's total scoring.
"The biggest challenge is not filling those rosters spots. The biggest challenge is making sure you fill those spots with the right person and the right talent," Collins said.
Adding size is crucial to replace 6-foot-1 Ivy Brown who grabbed 25.8 percent of the team's rebounds last season.
Two recruits, Akira Levy and Kallie Searcy, were released from their commitments after Coach Michelle Clark-Heard left to become head coach at the University of Cincinnati.
Despite those losses, Collins and his staff have been working with building chemistry, a big part of the
offseason.
The team had a cookout to watch the WNBA draft where they hoped to see former teammate Tashia Brown selected. They have been staying in the dorms this summer and working out together almost every day.
It also allows young players to take the torch from the graduated seniors.
Collins said junior Whitney Creech, who scored more than 5,000 points in high school and averaged 50.3 points per game her senior year, could be a big help to fill the scoring vacuum left by the two graduates.
Last year she was needed as a point guard to handle the ball, Collins said, and she focused on getting the ball to the Browns and other scorers.
Collins said he is ready for the challenge this team presents. He has been offered various coaching jobs at other schools but decided to stay with the Toppers.
"Being in a good place with good people was more important than chasing the next job," Collins said.
When Collins, who also has been an assistant at U of L and Arkansas, got the job, he searched for coaches he could trust and built his staff with people who had experience in a variety of places.
Even with all of the changes to the team, Collins said he believes his team can compete for a conference title. But it will take time.
"My goal, my focus is on continuing to improve each day to put ourselves in a position to win three games in three days," Collins said, referring to the Conference USA tournament that determines the automatic bid to the NCAA tournament.
Collins said he hopes to be coaching this team for many years to come and is planning for the future.
In addition to playing Final Four participant Louisville, the Lady Toppers will face Oklahoma, Central Michigan and Arkansas-Little Rock this year, all teams that played in last year's NCAA tournament.
"The goal would be to continue to build the program over consistently competing with the type of teams we have scheduled in our non-conference," Collins said.