Nationwide 988 mental health hotline could aid in crisis
For Brodie Curtsinger, an 18-year-old incoming freshman at WKU, seven attempts at suicide may have been avoided with just three numbers.
Beginning July 16, 2022, individuals experiencing emotional distress or suicidal crisis will have access to 988. It's a new three-digit dialing code that routes callers to the National Suicide Prevention Lifeline, much like 911 routes callers to police in an emergency.
When contacting 988, callers are instantly given information about the different types of support they can receive. These counselors are trained and the calls pick up what area code the person is dialing from and routes them accordingly.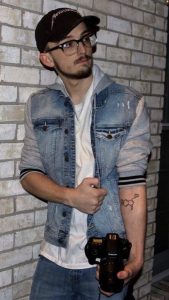 For people such as Curtsinger, it could mean the difference between life and death.
The teen said if he had 988, he thinks it would have been "one billion percent" easier than googling a 10-digit number and could have lessened his attempts at suicide.
One Lifeline counselor, who did not want to reveal her name, said in high stress situations, people may not have the mental capacity at that moment to look up a full hotline number.
"If you're in emotional distress, if you were on the verge of wanting to hurt yourself or someone else," the counselor said, "sometimes you can't physically and mentally focus on something that much or remember that number."
Like 911, 988 is "something that everyone will always know. It's something that is easy [and] fast," she said.
While those in charge of 988 said the number will not be active until July 16, a reporter for the Xposure Workshop dialed 988 on multiple occasions in early June, using three different cell phone numbers with three different area codes, and got through to a live counselor each time.
One of those counselors was located in Kentucky and seemed surprised to learn the three-digit dialing code was active. She said they had not yet been trained on 988 and would need to speak to her supervisor.
In another instance, a Lifeline counselor in Tennessee named Taisha, who did not give her last name, picked up and said she also was unaware the number was active. However, she said whether dialing 988 or the 1-800 hotline number, callers are routed to the same trained professionals.
"A lot of these services are already in place," Taisha said. "It's just how you're able to contact us at this 988 [number] that makes the biggest difference."
She added, "We are trained how to deescalate, how to understand the format of someone who's suicidal and how to get them help."
The counselor said the crisis centers are located throughout all of the United States and, "of course, when you get directed to a crisis center that's more local, they're going to be more familiar with the resources in that community."
At the heart of 988 is a push to save lives, those trained in suicide prevention stressed.
One counselor who asked to remain anonymous said one of the benefits of 988 is confidentiality.
"Some of the kids don't have the accessibility to have therapists or counselors or even have the accessibility to reach out to anyone to get that kind of help," she said. "With 988, individuals are always able to call and talk to a counselor 24/7, no matter what time of day it is and no matter what age as well."
Curtsinger wanted to get help for his past attempts but due to a bad situation, said he had a distrust for therapists. Through all his experiences, Curtsinger never looked for help when attempting suicide.
"When I went to text my counselor and it turned out all the past visits had all been individual [counseling], my counselor would actually be texting my dad, every last bit of information I was saying," Curtsinger said.  "I wanted a counselor but my trust levels are just very low."
Curtsinger first tried to harm himself in middle school, around seventh or eighth grade, he said. He started out playing a trending game called pin fingers. It soon progressed to sharp knives and eventually multiple attempts of suicide.
"I wondered what it would feel like if I purposefully were to self-harm myself," Curtsinger said.  "From that moment, I was like, imagine how much simpler life would be if my life didn't exist."
It wasn't until an Instagram post that included a picture of his tattoo, that the aspiring journalist began opening up about his mental health struggles. Curtsinger said the post got a huge response which encouraged him to write a book.
"The fact that I was willing to come out and say who I was underneath the familiar smile that I kept on my face," he said, ultimately motivated him to encourage others.
"If a short little snippet of my mental health can help that many people and inspire that many people, I wonder how much my full story can?"
So, this year, the teen self-published his book about his mental struggles entitled "Feared Fighter to a Strong Survivor."
While Curtsinger said he still struggles with suicidal thoughts at times, he is open to getting help and does see a future for himself.
"I would like to be a sports reporter or a motivational speaker," he said. "Overall, entertain the world."
As for Curtsinger's thoughts on 988, he said, "I hope the people in the shoes of suicide hotline operators will truly realize that the importance of who they are and the effect they could have on these people's lives who are actually calling."