X22: About our project on teens and mental health
We would like to begin by saying thank you for taking the time to read the articles written and photos produced by diverse student journalists from across the nation at the 2022 Western Kentucky University Xposure High School Journalism Workshop. After not having a workshop since 2019 due to the COVID-19 pandemic, it's an honor to be the first group back.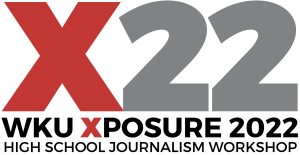 For the first time ever, the Xposure workshop focused on a single topic: teen mental health. Teens are experiencing drastically more mental illnesses and mental health challenges than generations before. This crisis is affecting teens everywhere and hits close to home for many of us. As we researched, reported in the field, conducted interviews and wrote our articles, we gained further understanding of the complexity of Gen Z's mental health.
Some sensitive topics discussed in our work include sexual and drug addictions, eating disorders, suicide, trauma-inducing events and grief. Producing these stories was challenging. As we reported on other teens' mental health, we experienced stress, anger and sadness, too. This project took a toll on us but it also made us aware of the mental health and struggles of other teens and ourselves.
We hope that by producing this content we have helped lessen the stigma surrounding teen mental health. We are proud to be able to amplify the voices of our communities and those we interviewed.
The Xposure 2022 student journalists
Cooper Bass, Bullitt East High School. Mount Washington, Kentucky

Delilah Brumer, Daniel Pearl Magnet High School, Los Angeles, California

Nia Davis, Prince Edward County High School, Farmville, Virginia

Shelbie Heath, Bullitt East High School, Mount Washington, Kentucky

Jaylin Jaggers, Oldham County High School, LaGrange, Kentucky

Chaz Kapfhammer, Trinity High School, Louisville, Kentucky

Madeleine Kiluba, Paul Laurence Dunbar High School, Lexington, Kentucky

Roi Mundin, Ritenour High School, St. Louis, Missouri

Elyse Owens, Atherton High School, Louisville, Kentucky

Gabriella Plasencia, Dripping Springs High School, Austin, Texas

Vincent Porco, Atherton High School, Louisville, Kentucky